5 Best 177 Pellets For Hunting 2023 -What You Should Know Before You Use 177 Pellets For Hunting
When we talk about the caliber it means the size of the bore of the gun and if you said the caliber of pellet then the diameter of the pellet is its caliber.
This article contains complete guide about .177 caliber pellets, its usage, specifications and which is best choice for you to pick it up from the several offerings of the market.
The extended caliber means extra heavy shot.
The .22 and .25 caliber pellets are used to get a heavy shot and especially for hunting big targets.
.177 pellets are pretty much useful for hunting small birds and pests like rats and rabbits.
These are lighter in weight and smaller in diameter as compared to other pellets.
177 pellets might not have enough power to shot a larger object due to its lesser FPE but in speed and accuracy these are matchless.
| Name | Grain | Price |
| --- | --- | --- |
| GAMO Red Fire .177 Caliber Pellets (Tin of 150) | 7.9 Grains | Check Price |
| Crosman Premier Lead Pellets (500-Count) | 14.3-Grain | Check Price |
| JSB Air Gun Pellets EXACT.177 Caliber | 7.87 Grains | Check Price |
| Crosman P1250 .177-Caliber Pointed Pellets (1250-Count) | 7. 4 Grains | Check Price |
| H&N Hornet Pointed Airgun Pellets.177 Caliber | 10.03 Grains | Check Price |
Buyer Guide
There are so many different types and brands to choose from, not to mention all the different types of bullets, calibers, and grain sizes. With this guide I hope to help you make an informed decision on what pellet gun you should get.
Speed and Accuracy
Due to its lightweight the .177 pellets keep higher accuracy rate to hit the target. The speed of the pellet is also greater than other pellets.
Speed matters in shooting at target and .177 pellets are pretty much helpful in this case. High FPS rate of .177 pellets enable you to hit your target quite easily while hunting.
Usage
.177 pellets are strongly recommended and used by the shooters in competitions. .177 caliber pellets are also used for hunting small pests and tiny targets.
.177 pellets are versatile in usage due to its high demand in shooting practice and competitions as well as in hunting. Many famous shooters shared their great experiences while using .177 pellets.
.177 pellets with high FPE
Pellets are generally made in 4 sizes and .177 are smallest. It was perception in past that due to its smaller size it keeps less FPE and therefore not recommended for hitting hard. But now some brands are offering .177 pellets with extended power and higher FPE to provide a handsome combination of speed, accuracy and power to its customers.
Loudness
According to research, if the speed of any moving object beats the speed of the sound then it results in a loud noise which is called sonic boom.
The sound travels at an estimated speed of 1125 fps in the air. Some air rifles are capable to shot the pellet at higher speed than that of the sound and their muzzle velocities are higher than speed of the sound.
So, normally .177 pellets create a louder noise as compared to .22 and this happened due to extended muzzle velocity of .177 pellets.
Grain Size:
The weight in grains for the pellets. Smaller grain sizes usually result in faster speeds and more penetration than larger grain sizes. Pellet Type: There are four different types of pellets that are commonly used in Hunting Pellets buyer Guide.
How far .177 pellets travel
Why this information is crucial? Because you will take decision that how far you need to stand to shot at your target. Multiple factors can effect on it, let's know about some of them.
Are you shooting upward or downward? Simply your pellet will be stopped by hitting the ground in case of shooting with a downward angle shoot. While if you will shoot the pellet upward then obviously it will travel to a greater distance.
Second thing is muzzle velocity. Higher the muzzle velocity of the pellets greater the distance that will cover.
Shape of the pellet is also a key factor because the most streamlined pellet will definitely go far due to lesser resistance of the air. Imagine the shapes of different cars, you will surely feel that the cars with high speed never designed with snub front.
The weight of the pellets effects in such a way that the light weight pellet will be swayed by the air and pellet with somehow greater weight will travel more than that comparatively.
Weather conditions also matters as the dry and hot weather have less density and the cold weather is denser which cause for some hurdle for pellet in traveling in the air.
GAMO Red Fire .177 Caliber Pellets (Tin of 150)
Did you like the Spanish food?
Features
177 caliber
Tin of 150 state-of-the-art Red Fire pellets
Diamond shaped polymer tip for true ballistic trajectory
Polymer tip creates a mushrooming effect on impact
Siren alert mode: Pyle PMP20 amplifies an emergency tone with adjustable volume control through the megaphone speaker
If you do or do not! You will surely like the Spanish state of the art Red Fire .177 caliber pellet made by the Europe's largest air rifle pellets manufacturing company GAMO. This producer is located in Barcelona. GAMO also produces high quality air pistol, rifles and other products of ammunition.
The Red Fire attain the first position due to its amazing power of killing the target and its high accuracy.
Its accuracy is due to its dynamic shape which grant a lot of ease to the pellet to hit right on the target. The polymer trip is diamond shaped which makes it unique and exclusive.
The Red Fire weighs 7.8 grams and this weight create a great combination between weight and size to shoot right on target with prodigious accuracy.
The aluminum metal pellets with polymer trip have a high muzzle velocity of 843 fps which is a very striking speed. The target found no way to move even an inch from its place when the pellet fired.
The Red Fire get a deep penetration in the target object with its solid trip and high quality metal body. The trip goes in deep and the aluminum pushes around it on hitting the target.
This comes in a container of 150 high quality pellets. It's a reasonable quantity with such a supreme quality in the demanded price range by GAMO.
GAMO Red Fire is a fine tool to deal with the squirrels, rats and rabbits that's why it's a preference of the hunters and best choice to select.
The price of Red Fire is also not too high as it is available in price range of just 11.41 to 26.63 dollars per box of 150 pellets in it.
Pros:
Dynamic and attractive shape
Penetrates well in target object
Perfect option for small game
High muzzle velocity
Cons:
Its difficult for Red Fire to kill the animals having tough skin like Lguanas
Crosman Hollow Point Pellets
In the air guns case the shock impact is more important than the penetration. In this situation Crosman hollow point .177 pellets are the best option for you. Its shock impact enhances its worth and with this quality these are the cheap and very affordable ammo for your air rifle.
Crosman hollow point comes in a packing of 500 pellets in a metal box. These pellets are made of premium quality material for providing you the best shots.
It is designed to hit with great accuracy for medium distances. Crosman hollow point is the best option for small and medium games. It is finest option for vermin hunting.
If you will go for a longer distance, then in trajectory you will get a slight drop. But these pellets are heavy in weight to provide the flat shooting and consistency in flight.
Crosman hollow point work very well with the air rifles having greater threshold. You can use it with a 1200 fps air rifle but this will effect over the accuracy a little bit. But if you would like to prefer the speed over accuracy then hollow point pellets are well compliant with 1200 fps air rifle.
As stated above that you can use the hollow point pellets with an air rifle with 1200 fps but it is best to use a maximum 1000 fps air rifle to get better results and for gaining a fine combination of speed and accuracy.
Using the hollow point pellets with a 1000 fps air rifle will also give a handsome shot. During a test with a 1000 fps break barrel while shooting at a half inch pine board it is observed that the hollow point pellets easily crosses across the pine board with a great accuracy as well.
The expansion of these pellets is remarkable even at lower velocity so these are better option for small vermin games. These well-shaped pellets are premium in quality and economical in price.
The Crosman hollow point pellets may not match with the accuracy of Gamo Red Fire, that's why we are keeping them at number two but still these are way better than the many other market offerings.
Its price is lowest in our list of top .177 pellets. So these are the cheapest pellets among the top .177 caliber pellets in our list.
Pros:
Shocking effects on small games
Heavy in weight pellets
Good shock impact
Very economical
Good option for shooting practice
Cons:
The lid of the box is quite hard to pry off
Not much suitable for high speed air rifles (more than 1000 fps)
Winchester .177, Hollow Point Pellets Review
The Winchester .177 Hollow Point Pellets are a great choice for anyone who enjoys target or small game hunting with a BB gun.
These pellets have a flat-nosed design, which makes them highly accurate and perfect for small game hunting. With 500 pellets in each tin, these airgun pellets offer exceptional quality and reliability that you can depend on.
The 9.6 grains in each pellet give it the right amount of power to penetrate tough targets without sacrificing accuracy.
If you're looking for an accurate and reliable pellet to enhance your shooting performance, these Winchester .177 Hollow Point Pellets are an excellent choice.
They have superior aerodynamic characteristics which make them ideal for hitting small game at far distances with precision accuracy.
The lead construction also gives them greater penetration than other similar products on the market, greatly increasing their effectiveness when used for shooting animals and birds.
Overall, if you're looking for an airsoft pellet that offers great accuracy, superior aerodynamic characteristics, and exceptional quality assurance from a trusted name like Daisy Outdoor Products – then the Winchester .177 Hollow Point Pellets are definitely worth considering!
JSB Air Gun Pellets EXACT .177 Caliber
The JSB air gun pellets made in Czech Republic are quite hard hitter and will give a punch for extended impact. Its shape makes it really impressive pellet and this will sharply move in the air. Its dome shaped head decreases the air resistance and ensure the smooth flight of the pellet to its target.
As it has hole in the middle of the head of the pellet like the hollow point. It enhances its weight as compared with the hollow point pellets for providing the greater impact with high muzzle velocity.
JSB pellets are 7.87 gr and these are internationally admired pellets and have a great reputation. It is observed that most of the air guns provide more accurate target hitting while using JSB pellets.
A tin contains 500 pellets of 4.55 mm diameter on the head of the pellet. Its amazing quantity with such incredible features.
The drag with JSB is reduced that can manage to deliver more energy at its target. It can maintain its energy and impact over longer distances.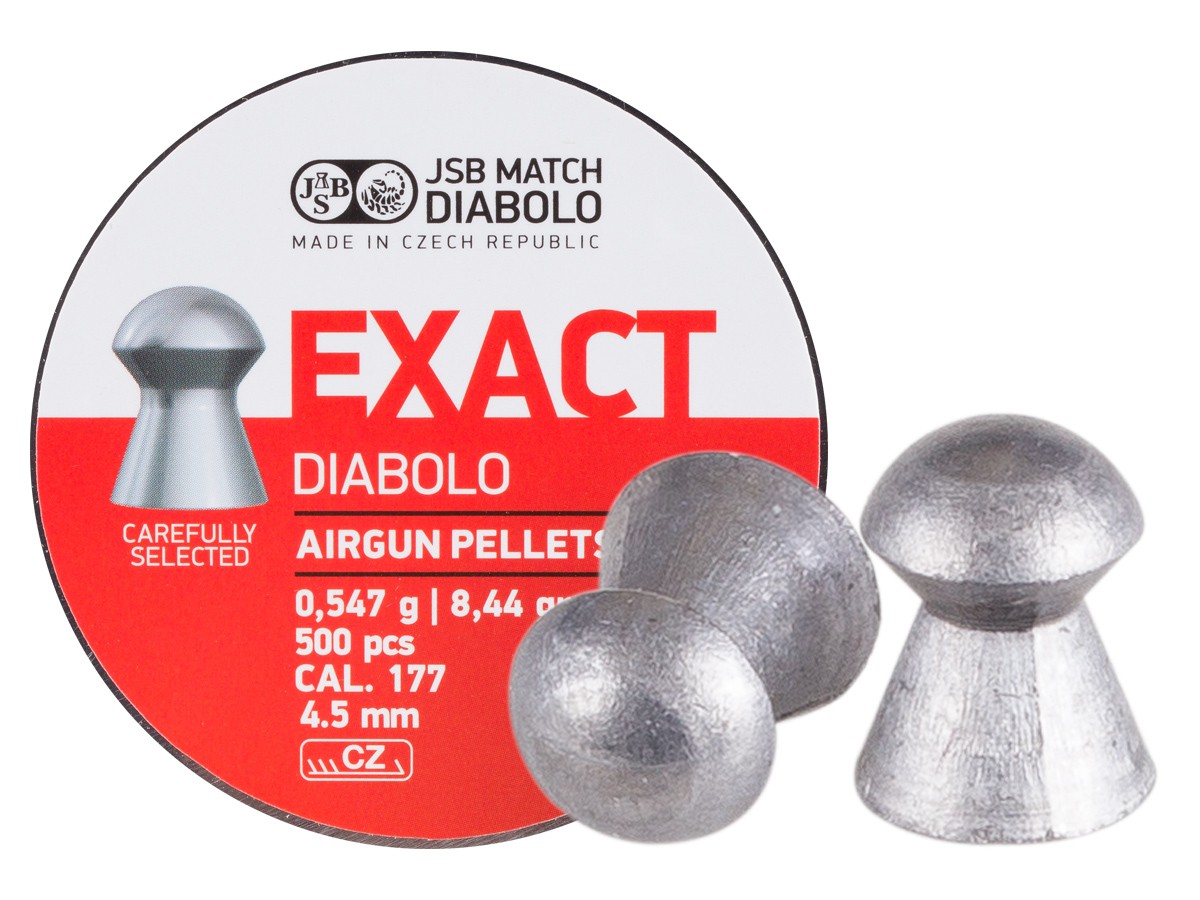 The main features which makes it distinguish from other pellets is its surprising accuracy even at long range. For more accurate shot and knockdown power, the JSB pellets are best selection.
JSB EXACT .177 caliber pellets are designed in such a way that you can use them with any .177 caliber rifle but it will be more striking with a PCP air gun.
The consistent performance of these pellets is noted up to 50 yards. Both for the hunters and target shooters it is great option.
The finishing, shape and quality of these pellets are extremely fine and surely your gun will fall in love these pellets.
Pros:
Enhanced impact
Amazing shape
Accurate
Knocking power
Fine finish quality
Cons:
Comparatively little bit expensive
Crosman P1250 .177-Caliber Pointed Pellets (1250-Count)
Crosman getting fame around the world for production of quality air guns and other shooting accessories. Crosman Field Hunting .177 caliber pellets are also a quality product of this company.
These pellets are economical in price and you get 1250 counts in a box which is a handsome quantity with a fine quality.
Crosman field hunting pellets are suitable both for hunting and plinking. These pellets suit best for small games specially. For pest control or shooting the rabbits, squirrels or raccoons Field Hunting .177 caliber pellets are an ideal choice.
Its pointing head is a great tool for deep penetration at the target. Its sharpness and special structure makes it more lethal for the target as it penetrates deep in the target due to its pointy head.
These .177 caliber pellets are 7.4 grains in weight which is a balanced weight for achievement of optimum impact and speed. The proper combination of weight and the caliber put a great impact on the accuracy. Crosman .177 Pointed pellets are suitable choice in this stance.
These pellets come in a card box and you got 1250 pellets in a single box. Rarely you can find some pellet which may not properly fits in the air gun or pistol but such case is a rare one.
Pros:
Pointy head
Deep penetrated
Best for plinking and hunting both
Economical (1250 counts per box)
Reasonable weight for better impact
Cons:
Sometimes pellet do not fit well in air gun
H&N Baracuda Hunter Extreme Hollowpoint Airgun Pellets
H&N Baracuda Hunter Extreme Hollowpoint Airgun Pellets are a great choice for any hunter or target shooter. With an impressive design and high-quality construction, these pellets provide an excellent combination of power and accuracy.
The caliber is .177 cal (4.5 mm) diameter with a weight of 9.57 gr, ensuring consistent performance in your air rifles and pistols that have a minimum muzzle energy of 12 ft. lbs.
The screw-on lid helps to prevent accidental pellet spills, while the lead metal material provides extra stability and durability when fired from the barrel.
These pellets offer maximum shock effect for hunting small vermin such as mice, rats, squirrels, chipmunks, sparrows, magpie, pigeons and snipes.
At a muzzle velocity of 745 fps and muzzle energy of 12 ft/lbs., these pellets will provide enough punch to reach up to 50 m/55 yds with a retained energy at 25 yds of 8 ft/lbs and velocity (speed) at 25 yds of 607 fps.
Even at 50 yds there is still enough energy remaining at 5 ft/lbs and velocity (speed) at 50 yds of 502 fps – meaning they will retain 66% of their initial value at 25 yards and 45% at 50 yards.
Perfect for Hunting and Pest Control
Mice
Rats
Squirrels
Chipmunks
Sparrows
Magpie
Pigeons
Snipes
etc.
In conclusion, the H&N Baracuda Hunter Extreme Hollowpoint Airgun Pellets provide an all-around excellent performance that makes them ideal for hunters or target shooters who need both accuracy and power in their shots.
With its screw-on lid preventing accidental pellet spills, lead metal material providing extra stability and durability as well as maximum shock effect for hunting smaller vermin – this is certainly one product that won't disappoint!