7 Best Benjamin Air Rifles Reviews and Buyer Guide 2022
Benjamin Air Rifles and Air Pistols are a brand of the Crosman Corporation and are manufactured in the United States.
There are lots of good options available when choosing a Benjamin Air Gun.
The Benjamin Air Rifle Company has been producing quality air guns for more than 100 years.
If you are an air gun shooter or you are looking into purchasing an air gun maybe even for the first time, it is almost a certainty that you have come across the Benjamin brand of Air Rifles and Air Pistols.
I love Benjamin Air Guns, and I have provided some general information and specifications for Benjamin Air Rifles and Benjamin Air Pistols on this page to help others discover some of the greatest air guns available for purchase today.
Here you will find specifications, ammunition, accessories, and other items for Benjamin Air Guns like the Benjamin 397 Air Rifle, Benjamin 392 Air Rifle, Benjamin Trail NP XL Air Rifles, Benjamin Discovery Rifles, Benjamin Marauder Rifles, Benjamin Pump and CO2 Pistols, and loads of other great Benjamin Guns.
Buy Benjamin Air Guns here and get great discounts and free shipping in the United States.
The following are some other specifications which you should consider as well:
Gun Type – The Spring, PCP and Gas Ram are the three main types of air riffles.
Fit and Finish – It is all about size and comfort of using a rifle.
Trigger Quality – It is the sensitivity of the trigger.
Power – Measures that how far you can shoot.
Features – Different guns have a different feature which makes each other distinctive.
Top 5 Best Benjamin Air Rifles in the Market in 2021
Benjamin Marauder PCP Gun

.177, .22, .25
900 - 800 FPS

Benjamin Trail Nitro Piston 2

.177, .22,
1200 - 1400 FPS

2.8 x 45.8 x 7.6
5.2 pounds

Benjamin Titan GP Nitro Piston

Benjamin Trail NP All Weather
A Brief History of Benjamin Air Guns
Benjamin is one of the most popular names in the air gun industry.
The Benjamin Air Rifle company began in the early 1900s and started producing quality, affordable air guns such as the 397 and 392 in the 1960s.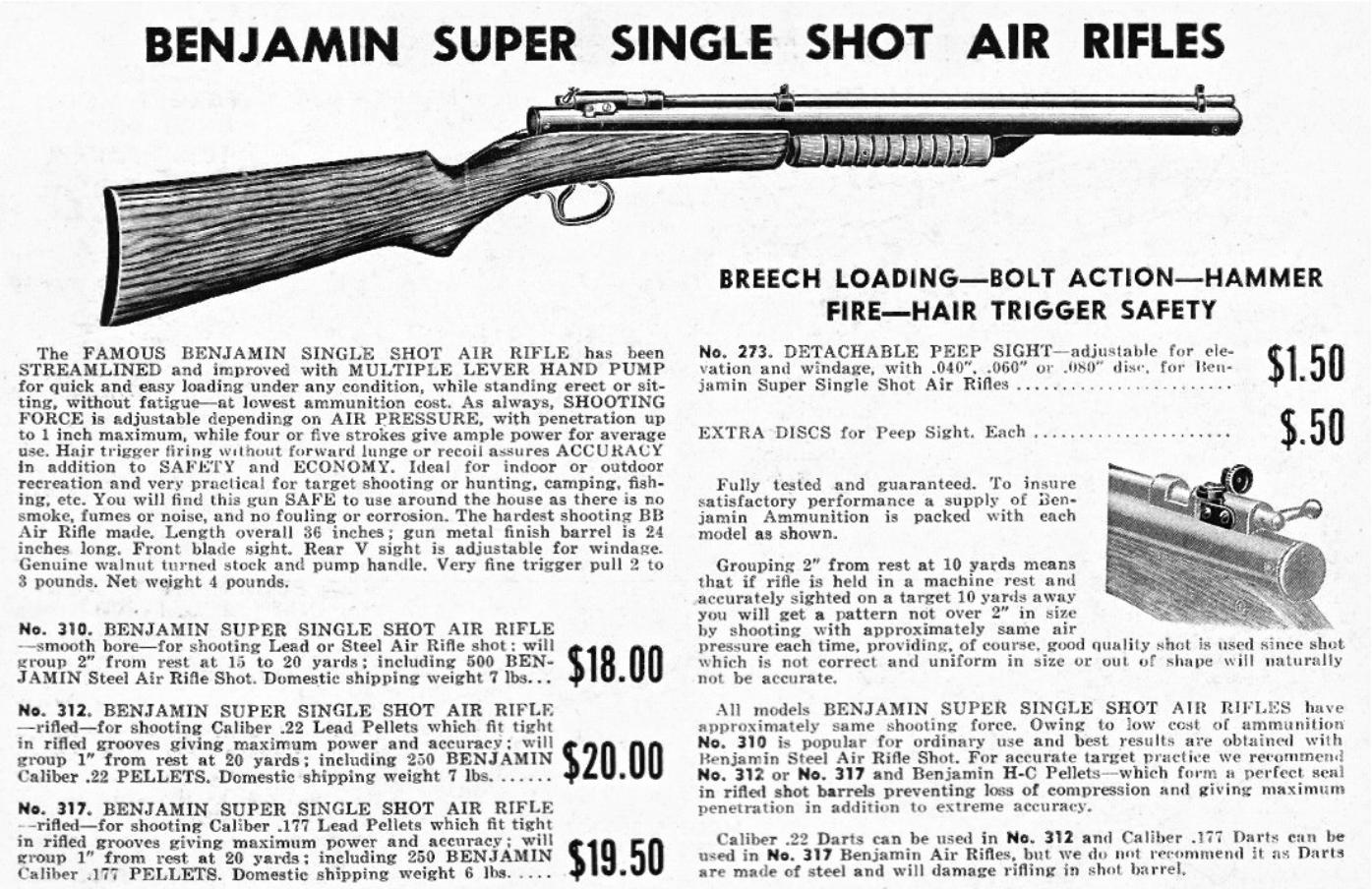 Benjamin acquired Sheridan Products in 1977 and merged operations in Racine, WI in the mid 1980s.

In the early 1990s, The Benjamin Sheridan Company was bought by the Crosman Corporation.
Since that time, Crosman has continued to manufacture some of the classic Benjamin and Sheridan Brand Air Guns like the .177 Caliber Benjamin 397, .22 Caliber Benjamin 392, and the .20 caliber Sheridan Blue Streak as well as the popular Benjamin HB17 and HB22 Pump Pistols. But, Crosman always had a bigger plan for the Benjamin Brand.

As the century turned, Crosman set its sights on building Benjamin as the innovative leader of affordable and quality air guns.
In 2003, new air rifles were hitting the market that included some traditionally styled CO2 and Break Barrel Air Guns.
However, as the decade passed, Benjamin wanted to give us more.
In 2008, they delivered with Benjamin Discovery PCP Air Rifles.

The Benjamin Discovery sought to give shooters an affordable alternative to higher priced Pre-Charged Pneumatic (PCP) Air Rifles.
They delivered on that goal, and they achieved even more.
The Discovery Air Rifles are described as Dual Fuel air guns because they can be filled with a shooter's choice of Compressed Air or CO2.
The Discovery is a great PCP air gun and can be purchased for around $400 with a high pressure hand pump that allows shooters to fill their air guns at an affordable price.

In 2009, Benjamin released the Marauder. The Marauder is a more elegant PCP air rifle that offers more power, repeat shooting, quieter performance and also integrates some of the great innovations of the Discovery. The Marauder is also a Dual Fuel Air Rifle.

In 2010, Benjamin released the Benjamin Trail NP series of air rifles. Nitro Piston air rifles are a great all around choice for any air gun shooter.
Benjamin Nitro Piston .177-Caliber Review
I am quite happy with this air rifle. Accuracy is great after breaking in per the manual. The included scope while not great is a fine value at this price.
Pros
Rifled steel barrel
Two stage trigger mechanism
Nitro Piston power mechanism
Picatinny Style rail for mounting scope
Traditional Hardwood stock
Comes fitted with Sling mount and swivel studs
Cons
About Benjamin Nitro Piston .177-Caliber Break Barrel Pellet Rifle with 3-9X 40mm Riflescope
The air rifle has beautiful black synthetic stock. It measures 44.5 inches and weighs around 8.3 lbs. A 3-9x 40mm scope is provided with the air rifle for accurate shooting.
Features
Light-weight Synthetic stock
The rifle's stock is made of all-weather synthetic material that is strong yet light-weight. The stock has thumbhole which adds to the comfort level when handling the gun.
Noticeable silent
The muzzle brake fitted inside the rifled barrel significantly reduces the shot noise. Besides the gas piston mechanism also produces less noise in comparison to spring mechanism.
Adequate firing power
The rifle has good firing power. The alloy pellets fired through this air rifle travel at a velocity of 1200 fps whereas the regular pellets travel at a velocity of 1000 fps.
Good safety mechanism
The safety lever in the rifle prevents accidental release of firearm. This safety feature allows you to keep the air rifle loaded without fear of any mishap.
Comfortable to use
One of the advantages of muzzle brake is it dampens the recoil force and also prevents unwanted rising of the barrel after firing the pellet.
Easy cocking
This single shot air rifle is extremely easy to cock. You don't have to use much force to break open the breech and load a pellet.
Ideal for hunting in winter seasons also
The gas piston mechanism in the air rifle ensures the rifle works effortlessly in winter season also. Besides, the piston mechanism lasts longer than spring mechanism.
Reliance on scope is not a good thing
The air rifle does not have any rear or front sights. You have to completely rely on the scope to gain higher accuracy in target shooting.
Conclusion
This nitro piston powered air rifle offers combination of performance and good looks. The air rifle is light-weight and is ideal for plinking and small game hunting.
If you are looking to buy an inexpensive air rifle for occasional plinking, this Benjamin air rifle is an ideal choice for you. Buy Benjamin Nitro Piston .177-Caliber Break Barrel Pellet Rifle with 3-9X 40mm Riflescope now.
Benjamin Trail NP XL Air Rifle .177 and .22 Review
The Benjamin Trail NP XL air rifle is designed for adults looking for hunting performance at an affordable price. With precision rifled barrel, this break barrel air rifle delivers accurate, reliable performance right out of the box.
The Benjamin Trail NP XL air rifle combines the speed of Nitro Piston technology with durability of composite components. It's easy to cock, shoot, and clean; all you'll need is some pellets.
Pros
Barrel made of rifled steel
A two-stage trigger mechanism is used.
Nitro Piston Technolgy
Scope mounting can be done using a Picatinny Style rail.
Hardwood stock
Swivel studs and a Sling mount are included.
Cons
About Benjamin Trail NP XL Air Rifle
The length of the break barrel is included with the overall rifle length, which is around 49 inches. It weighs in at 8 pounds, which makes it easy to carry around all day long!
The Benjamin Train NP XL comes with sling mounts and swivel studs from the factory.
The cocking is good (but not too easy), it even has a built in pressure regulator.
Features
Good looking
The gun has a hardwood stock with a beautiful checker pattern. This rifle's appearance is quite nice, and it looks fantastic when draped over your shoulders or on the wall.
Heavy duty performance
The air gun has a strong firing power thanks to the Nitro piston mechanism. The rifle can fire alloy pellets at a speed of 1100 fps, whereas regular pellets travel at 950 fps.
Comfortable to use
Both sides of the stock are padded with cheek pads, ensuring that both left- and right-handed users are comfortable while using the air rifle. The scope is easily installed and removed due to the integrated rail mounting system on the rifle.
Sturdy scope mount
Even with strong air rifle recoil, the integral rail mounting system keeps the scope in position and prevents it from coming off.
Adequate safety mechanisms
It includes a two-stage trigger mechanism that gives you another chance to consider before firing the shot. When the rifle is cocked, the manual safety lever prevents ammunition from being released unintentionally.
Bit bulky
The stock and the break barrel are both constructed of steel, which increase the rifle's weight.
Ideal for hunting in winter seasons also
The gas piston mechanism in the air rifle ensures the rifle works effortlessly in winter season also. Besides, the piston mechanism lasts longer than spring mechanism.
Not so silent
The starting sound of the air rifle may be loud, and it might take some time for you to notice a reduction in noise as the gun firing mechanism adjusts.
Conclusion
The Crosman Benjamin Trail NP XL is one of the most popular air rifles on the market today and has been around since 2010. It's easy to see why this rifle is so popular with hunters and target shooters alike.
Available in two calibers .177 and .22
Looking for a powerful air rifle that looks nice. There's no doubt that this Air Rifle is well worth the investment.
Benjamin Trail NP2 Air Rifle Review
Air guns used compressed air or other gas to propel projectiles. There has been a huge increase in the use of air guns.
Air guns are used in hunting, pest control and it is also used in competitive sports. Air guns are classified into calibers and most common caliber is .177 or 4.5mm.
This caliber is used in competitive shooting competitions because the gun produces the flat trajectory of the projectile which makes it easier to shoot accurately.
Due to the same reason, the same caliber guns are used for hunting.
Features:
The Benjamin Trail NP2 Air Rifle is one of the most sold 4.5mm caliber air rifle last year and it is due to the following reasons:
There is a common misconception that all air rifles use the same technology and all the rifles are created equal.
With different barrels and different calibers, the air guns differ in their sizes and uses.
The Benjamin Trail NP2 Air Rifle works on the Nitro Piston 2 technologies that suppresses the sound and provides more accuracy.
The smoother cocking and smoother shooting of this gun makes it one of the best choices in the market.
All the parts of this gun are made in America and all parts are durable. With this gun, you will find a two stage trigger that is very essential for take up.
The manual safety option of this gun makes it safer around children and teenagers.
The gun offers smooth shooting and with no spring torque, this is one of the best guns in the market.
The trigger of this gun is also tuned for the professionals. The crisp and clean trigger of this gun makes shooting a fun experience.
A significant lighter trigger makes it easier to shoot and will also increase the accuracy because of less recoil.
Accuracy is what everybody wants when it comes to the sport of shooting and with the latest technology of Nitro Piston 2 and smoother cocking; you will be able to hit everything.
The material of this gun is designed to work perfectly fine in harsh and cold weather.
Pros:
Manual safety option in the gun makes it easier to store and keep when children are on board. It reduces the chance of any accidents.
The air guns of such caliber are often loud and the sound may be disturbing for many people. With the help of the suppression sound system, the gun will make minimal sound
The gun is manufactured from high quality materials and this makes it one of the most durable guns in the category
The gun works perfectly in all types of weather
With nitro piston technology and easy to use trigger, you will hit almost everything
Cons:
The gun is a little heavier than many guns in the same category and this makes it hard to carry on long hunting trips
The rifle scope review of the gun is not up to the mark. It tends to lose focus when it goes more than 5X.
The stock edges are sharp
Conclusion:
The Benjamin Trail NP2 Air Rifle is not your everyday air gun. The gun is precisely designed for shooting and hunting and is recommended by many professional shooters.
The gun makes less sound as compared to other air guns in the category. You will not find any other better option than this in the current price range.
The gun is equipped with all the latest features such as picatinny optical rail and recoil pad and you should purchase it, if you are want a gun with accuracy and moderate price.
Benjamin Marauder Wood Air Rifle
If you are looking for an air rifle for target shooting and varmint hunting, then this rifle should be your 1st first choice. You will get Power with super accuracy in this air gun.
When you are going for hunting of a bit bigger animals and birds like turkey, fox, hogs and coyotes, then you must have a powerful and accurate air rifle. And for that, you must try Benjamin Marauder Wood Air Rifle. This rifle has a power source of Pre-Charged Pneumatic (PCP) that helps it to become a better air rifle.
Pros
So, here are some specifications of Benjamin Marauder Wood Air Rifle that will convince you to buy it:
It contains a 10 shot magazine which is pretty reasonable for hunting.
Its pellet velocity is up to 1000fps which helps it to shoot a reasonably distant target.
Manufacturers have made wood-like textures so that users can get a feel of old wood rifles.
Its frame is made up of metal and not wood. As old wood rifles were relatively too difficult to operate and use than modern PCP air rifles. So, Benjamin air rifle company decided to make some seriously metallic air rifles.
It also has a lever for safety.
It's a Rebalanced Wood Stock
Rifled and shrouded barrels are made for accuracy and resonance dampening.
Cons
This air rifle is perfect for hunting, shooting pest control, and small game. But still, it has a problem that users can face. So, let's see what it is:
Weight:
As it is made of fully synthetic metal, so it is heavier than normal weight. Normally air rifles are 6.5 to 7 pounds in weight but this rifle is 9.5 pounds.
We all know that everyone is not a professional hunter or shooter but they want to be. In this case, an amateur can face problems regarding the weight of the rifle because everyone cannot handle heavy air rifles.
Benjamin Trail NP XL Air Rifle
Nitro Piston 2 system air rifle is best for game hunting. In the manufacturing of this rifle, designers and manufacturers have kept some important features in view like a telescopic sight for long-range shooting. By using this air rifle scope CenterPoint 3-9 x 32 mm you can zoom in to distant targets so that you can shoot in a better way.
Pros
So, let's have a look at some specifications of Benjamin Trail NP XL Air Rifle that you must know:
Manufacturers of this air rifle have also kept the noise in their minds before the creation of this air rifle. Its Gas piston Bull barrel is 70% quieter than most other break barrels. This is perfect for hunting because in most cases, animals or birds run away or fly away after hearing the noise of the rifle but this air rifle does not make that much noise which is a great plus point of Benjamin Trail NP XL Air Rifle.
A scope of 3-9 x 40 mm makes this air rifle a better rifle than its competitors. Because this kind of features attracts the buyer. By using this scope of 3-9 x 40 mm, you can find your target from a relatively long distance.
Its barrel is made of alloy steel which makes it a stronger air rifle. While other materials of the rifle are mainly made of hardwood.
It's Crosman Nitro Piston allows it to make shooting smoother than you think.
In normal conditions, its pellet velocity is 950 fps with a .25 caliber. While maximum velocity that can be achieved by Benjamin Trail NP XL Air Rifle is 1500 fps.
Cons
Every product has some advantages and disadvantages as well. So let's see some of its cons:
It has a shot capacity of one-shot which is way less than other air rifles. This can hurt many people.
Rear and front sights are not provided by the manufacturers. This con does not matter for some people while some people who love to work with sights can face problems regarding rear and front sights.
Benjamin Marauder PCP Gun
The Benjamin Marauder is a very versatile, accurate rifle that comes in .177, .22 and .25 calibers. It's perfect for both plinking as well as hunting small game.
It can be modified for different velocities and the internal shroud makes it an ideal gun due to its low noise. Its foster fitting for quick pellets refill is a great feature which you will rarely find in other similar products.
Pros
Versatile options .177, .22 and .25 calibers
Choked barrel
2-stage adjustable match trigger
Sling mounts
Reversible bolt
Cons
Multi-shot
The Marauder is a multi-shot pneumatic that can be set up either as an 8-shot repeater or a 10-shot repeater.
Sturdy and light-weight
It is made of synthetic materials for ease of use and portability. With this rifle, you can shoot all day without getting tired. The Benjamin Marauder offers all the accuracy and power you need, plus a rugged durability that's perfect for beginners or those shooting on a regular basis.
Easy loading
The Benjamin Marauder PCP air rifle features an easy loading bolt action, so you can focus on getting the pellet on target.
Strong barrel with Perfect firing power
The Benjamin Marauder PCP Air Rifle is equipped with a rifled steel barrel, which is not only durable but also has good firing power. And the best part is that it shoots accurately without any fliers.
Excellent trigger system
The adjustable 2-stage trigger ensures superior accuracy in targeting the aim.
The Benjamin Marauder PCP Air Rifle features a two-stage trigger system, which has the first stage adjustable from 1 to 3 pounds and the second stage adjustable from 1 to 4 pounds. The trigger pull is smooth and consistent and breaking point is crisp and clean.
Significantly silent
The Benjamin Marauder PCP Air Rifle features a significantly silent barrel that reduces the noise of the shot. Powered by Air/Co2, this air rifle produces low noise.
Warranty
Further, the package also comes with a magazine, degassing tool, swivel studs and a 1 year limited warranty.
Conclusion
The Benjamin Marauder PCP air rifle is an excellent air gun that will work great for small game hunting. It is powered by a PCP (pneumatic) tank, which you have to purchase separately. There are many places that you can purchase a tank and the air gun from.
One good choice is Amazon.com and there are always deals running on it.
Overall, I would strongly recommend this gun to any hunter who needs a powerful dependable and accurate pellet gun to add to their hunting equipment collection.
Benjamin Trail NP XL
It is .25-caliber cannon capable of delivering 900 fps. It is of Break barrel Gar RAM type with Nitro piston and a thumbhole stock for easy grip.
It gives really smooth performance and it is reportedly found 70 percent quieter than most of the other types of cannons.
It is also very convenient to use especially with its twin cheek pieces textured grip which ensures that you hit the bull's eye every time you hit.
Further, you it allows you to aim your target much better using a Center Point Optics scope.
The weight of the gun is around 9 pounds which can vary about 0.8 oz due to the difference in the wood densities. You can have it with a 1 year warranty.
Benjamin Titan GP Nitro Piston
The thumbhole stock is the unique selling point of all Benjamin shooter products. It is a .11-caliber Break barrel Gas-piston gun with a 2-stage amendable trigger. Its Nitro Piston technology ensures smoother cocking and shooting. The rifle doesn't have any spring torque or fatigue. The performance of the cannon is excellent in cold weather even if you leave it cocked for several hours. Further, the package includes an un-mounted Center Point 4 x 32 Riflescope along with 1 year limited warranty.